Coin Master can be played by logging in with your Facebook account to make it more interesting to play it with your Facebook friends and millions of players worldwide. It also rewards you with numerous spins for free whenever you invite a friend on Facebook.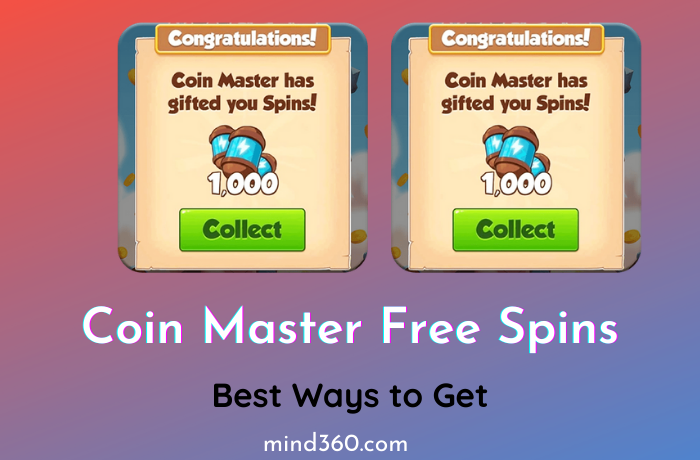 So, if you are wondering how you can win Coin Master Free spins, you have landed on the right page! In this article, we will provide you various methods to win a free spin without any hassle, so get ready to win free Coin Master spins quickly!
Coin Master Free Spins – Overview
Coin Master is a fantastic online adventure game. The game is so effortless that it doesn't take much time to get the basic mechanics. This is a base-building strategy game with a simple gameplay rule that spins the slots machine to act. To attack other player's bases, earn coins, raid player stashes, and more, the aftermath is slowly and gradually construct and upgrade your base with the coins you gain.
How To Get Coin Master Free Spins?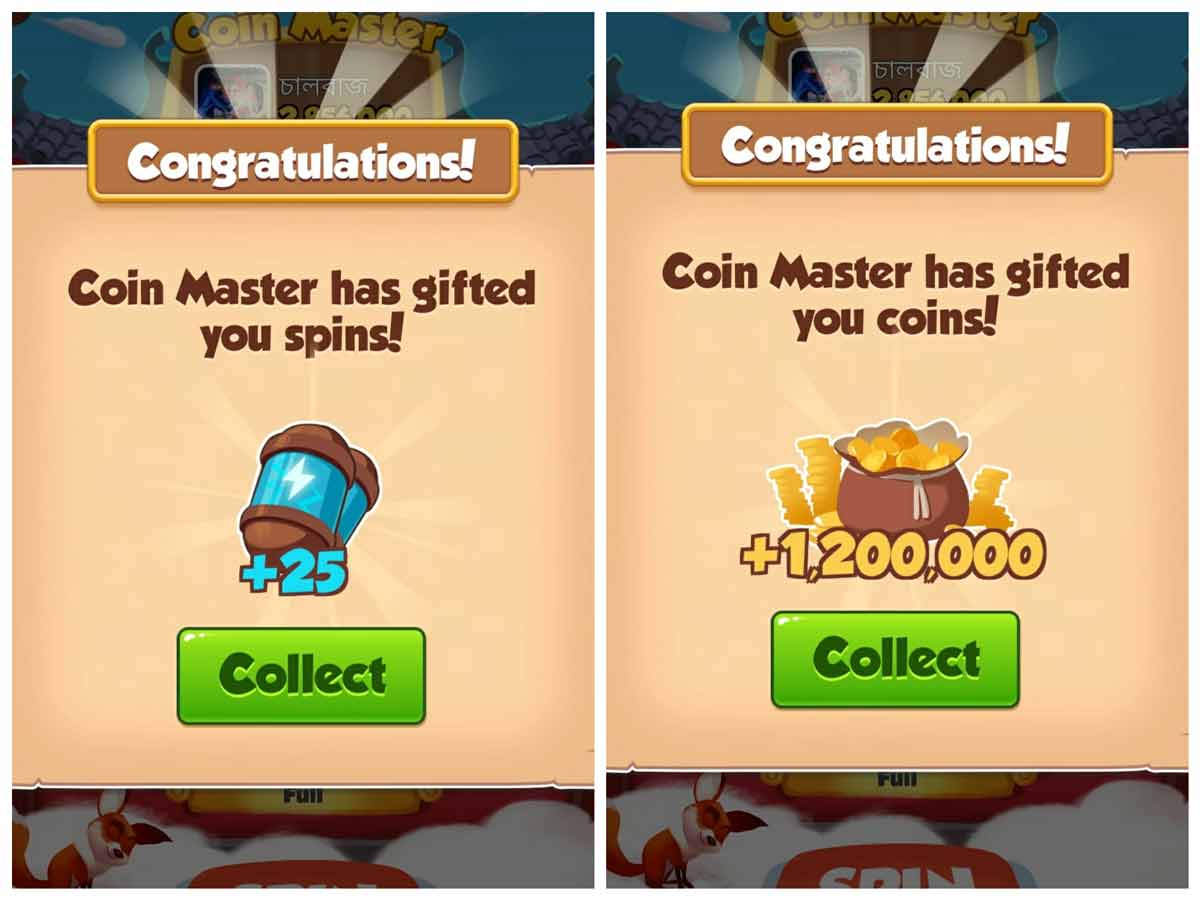 1. Sign up for email gifts
Signing up for email gifts can give you a handful of spins every day, As it is a straightforward and quick method of getting free spins daily.
2. Invite friends
When you invite a friend on Facebook, the game gives you free 40 spins per invite; your friend has to download and login with their Facebook account.
3. Request spins as gifts
Requesting your friends for spins and Coins will give you 100 Coins, but you need to have that much popularity amongst your Facebook friends.
The Essentials Of The Game: Coin Master
1. The Slot Machine
The Slot Machine is the most critical aspect of the game; most of your time will only handle this part of the game. You can get access to the Slot Machine by simply going to the in-game menu and choosing it, or else you can swipe downwards from the village view. The number of available spins is given below the Slot Machine.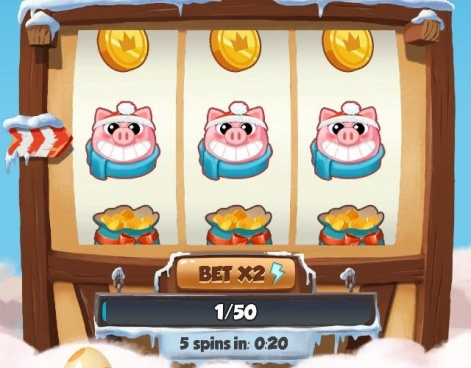 Every time you make a spin, the spin's count decreases by one; after the spins get null, one has to wait sometime to regenerate spins. The Slot Machine has four reels with four different symbols; after spinning, if you get all four identical symbols in a row, the following action is performed. Four symbols include a hammer, a bag of coins, a shield, and a pig bandit.
2. The bag of coins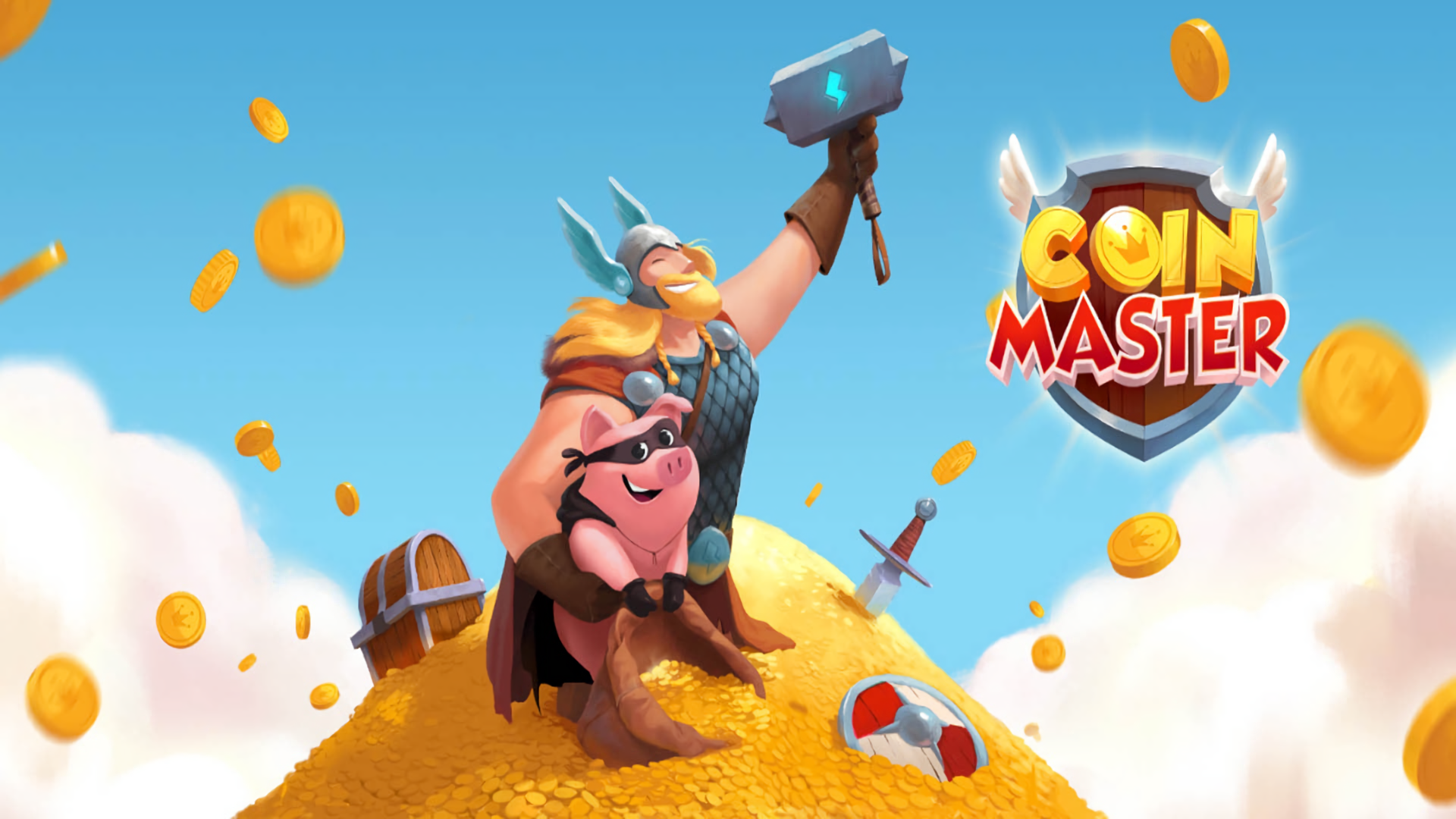 The bag of coins functions and gives you more coins as a reward, but it isn't mandatory to get an entire row of these. Each pack of coins gives you a small reward.
3. Attack – The Hammer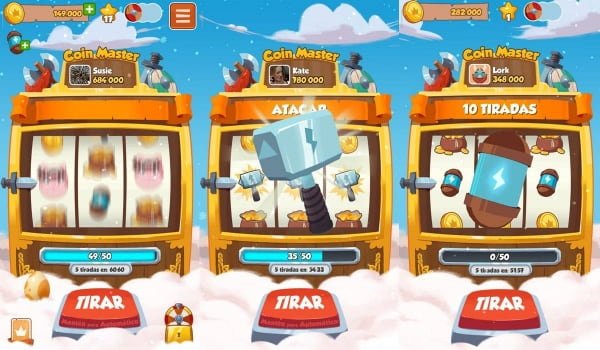 After a good spin, if you get four hammers in a row, you get to attack another player's base. If you've logged in with Facebook, you can attack a friend; else, the game gives a random player. Afterward, you will be free to attack the enemy base, whichever base you are feasible.
4. Raid – The Bandit
If you get four of the pig bandit symbols in a row, you get to raid. However, when a raid starts, you are given three Shovels to dig holes with; the area where you have to dig has 'X' symbols over it. After searching, you will get some rewards in the way of coins, which will be deducted directly from the opponent's coin stash.
5. Defend The Shield
The shield does not protect you from raids! But it is used to protect your village's building. As a result, you won't lose any star rating.
6. Betting
If you have got a large number of spins, then you can put Bets on it. The more number of Bets you increase chances of you winning significant increases; bets multiply the number of Slot Machine rewards.
7. Village Building
This is another central aspect to grow stronger in the game. There are five buildings to construct on each level. To get each level up, you first have to increase the level of your buildings to 5-star.
8. Cards
Cards are gained by opening up the chest, which is achieved by spending coins. There are many Card Collections, and each collection consists of nine Cards. If you collect all nine cards, you get rewarded with bonuses such as free Spins, an influx of Coin and even pets.
The game has three kinds of chests—the more expensive the chest, the more cards you will find in it. Also, the quality of Cards depends on the level of your current village. Depending on the chest, the Joker Card can only be driven when opening a mystery, ruby, or valentine's chest.
9. Pet Snap Drop
Only and only Mystery and Valentine's chest can reward you with a pet.
10. Bonus Spins And Pet XP
For fixed probabilities for Bonus Spins, the Emerald, Ruby, and Sapphire chests are made.
11. The Joker Card
The Joker Card is the rarest in the game and can be gained by participating in Coin master events and unlocking Mystery chests.
12. Pets
Pets are the ones who accompany you at the time of attacks and raids. Pets are found by hatching and accessing the Pet screen in the game's menu or tapping the eggs under the Slot Machine.
Once a Pet gets activated, it will give you a bonus for the next 4 hours. As the time gets over, your Pet will automatically fall asleep and let it recover for some time, but if you want to speed up the recovery time, you can feed your pet with treats, and also you can spend real money to spend on treats.
Tiger – The Tiger Boosts the number of Coins after you attack an enemy base, and as the level increases, the Coin boost also increases.
Rhino – Rhino is a defender of our village; it defends enemy attacks and can be leveled up by XP potions.
Foxy – Foxy is the very First Pet that you get in Coin Master. It gives you an extra shovel in raids and unlocks at village level 4.
Frequently Asked Questions:
How do I get unlimited coin spins?
You can get The Coin Master Mod APK, in which the game supports unlimited coins as well as spins.
Can you cheat in Coin Master?
Yes, you indeed can cheat in Coin Master by using the hack version of the game.
How do I get free spin in Coin Master?
The ideal way to earn free spins is to invite your Facebook friends, by which you can get 40 free spins on each invite.
You May Also Like:
Conclusion:
Coin Master is hands-down one of the best adventure games online. Winning free spins with the methods mentioned above will allow you to collect more rewards. So, what are you waiting for? Start collecting your free spins right away!